The Henry Ford Museum &
GreenField Village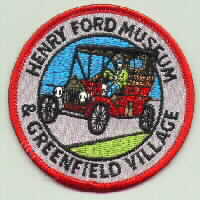 Located in Dearborn Michigan ..at Village Rd., & Oakwood Blvd., is a 93 acer monument to American innovation and enterprise. Documenting nearly 3 centuries of technological and cultural change, the museums collections encompass communications, transportation, industry, agriculture and domestic life. "The Automoble in American Life" exhibition illustrates the impact of the automoble on 20th century America, while "Made in America" explores the history of U.S. industry.
Also on exhibit are a folding camp bed used by George Washington durring the Revolutionary War, the victorian rocking chair that Abraham Lincion was sitting in at Ford'd Theatre when he was assassinated and six presidential limousines, including the one John F. Kennedy was in when he was assassinated.
The buildings in GreenField Village span more than 350 years of history, with emphasis on American resourcefulness. Houses moved from all parts of the nation include the homes of Noah Webster, the Wright brothers and Henry Ford as well as the boyhood farmstead of Harvey Firestone. The Firestone property operates as a working 1880's farm.
Workshops, Laboratories and other structures associated with Thomas Edison commemorate the inventor's career. Of interest is Edison's Menlo Park N.J., laboratory where more than 400 inventions originated, including the electric light bulb, the phonograph, the mimeograph and the telephone transmitter.
Craft and trade demonstrations include black-smithing, glass blowing, pottery making, printing and tin-smithing. Horse-drawn carriage and sleigh rides are available. Rides on a steam train, a paddlewheel steamboat and a 1913 carrousel are available durring the summer. Events with historic and seasonal thems are held throughout the year. light clothing and comfortable shoes are recomended. Food is available.
Allow a full day. Daily 9-5; closed Thanksgiving,
and Dec. 25th. Greenfield Village building interiors
are closed Jan. 2-Apr. 1.

Phone: (313) 271-1620, 271-1976 "local calls"
or 1-(800) 835-5237 toll free
for ticket prices & more information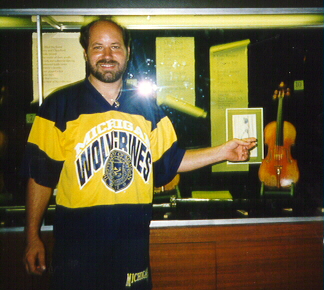 A Photo of myselve Anthony Joseph Guarnieri pointing to A Authenticated
"Guarnerius" Violin on Display at The Henry Ford Museum
in Dearborn Michigan USA........
Also Visit The Henry Ford Estate, The Dearborn Historical Museum,
& The Automotive Hall Of Fame..all Located near The Henry Ford Musem in Dearborn Michigan USA
**Hit the "BACK" button on you web browser to return to your prevous page**

Back to The Guarnieri Home Web Page Page